Miloh Quartet: Bobby Selvaggio, Dan Bruce, Ashley Summers, Chris Baker
Energetic & highly interactive modern jazz ensemble with musical roots in Northeast Ohio reunite on the BLU stage in special summer show! Co-presented by Bop Stop at the Music Settlement.
Friday, July 21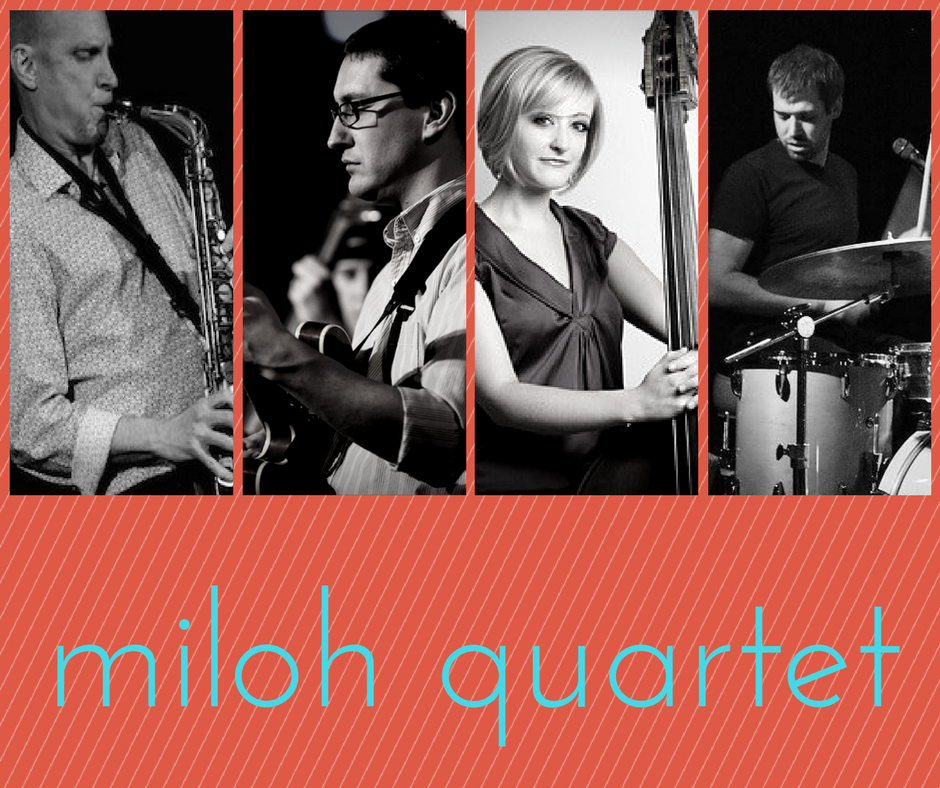 The artists of the Miloh Quartet have been performing together around the country & internationally for well over a decade. The band performs original compositions, incorporating a wide variety of influences, contributed by each member. The end result is a group sound that is powerful, energetic, and highly interactive.

Join us at BLU Jazz+ as this sensational lineup reunites for a very special show – get your tickets today!

---
Bobby Selvaggio
Bobby Selvaggio is one of the leading alto saxophone voices on today's jazz scene. In the words of pianist Kenny Werner, "Bobby is among the best of players out there," and legendary saxophonist Joe Lovano praises Bobby by calling him "one of the few young saxophonists on the scene today that captures you with his strong presence, focus, and sound."

Bobby, who grew up in the Cleveland area, earned his Bachelor of Music in Music Performance from Kent State University. He eventually moved to New York City and earned a Masters degree in Jazz Performance from the Manhattan School of Music. While in New York, Bobby studied with Joe Lovano, Bobby Watson, Dick Oatts, and Maria Schneider.

After living in New York City and gigging around town at places like the Vanguard, Smalls, and Birdland for four years, Bobby decided to move back to Cleveland with his family. He has dedicated himself to keeping jazz alive in Cleveland and his passion for jazz education has led him to serve as Director of Jazz Studies at Kent State University.

In addition to his work in jazz education, Bobby continues to expand his discography. His most recent recording is Short Stories (Origin Records, 2014) featuring Aaron Goldberg on the piano, which follows Way Of Being (Arabesque Records, 2013), Grass Roots Movement (Arabesque Records, 2011) and Modern Times (Arabesque Records, 2009). Modern Times featured Kenny Werner on piano and Sean Jones on trumpet. Bobby's Unspoken Dialogue (Playscape Recordings, 2007), also featured Kenny Werner, as well as Jamey Haddad on drums, Ben Street on bass, and Paul Tynan on trumpet.

In addition to playing alto saxophone, Bobby also plays soprano saxophone, alto clarinet, flute, and is a composer, arranger, and jazz clinician.

---
Daniel Bruce
By embracing the influence of his heroes from the jazz tradition and retaining his own musical personality, guitarist Daniel Bruce has developed a unique and impressive musical voice. A recent transplant to Ohio after spending a decade as an important member of Chicago's vibrant jazz scene, he is active throughout the Midwest and nationally as a performer, recording artist, composer and educator. Bruce moved to Chicago in 2007 after completing his master's degree in jazz studies at the University of North Texas. He was quickly performing at a number of the city's finest jazz venues including Andy's, The Green Mill, The Jazz Showcase, and Harris Theatre in Millennium Park.

Bruce has performed on over twenty five albums as a sideman. As a jazz performer and recording artist, He has had the opportunity to work with a number of eminent musicians including Seamus Blake, Ali Jackson, Lynn Seaton, Dan Wall, The Cleveland Jazz Orchestra, Marvin Stamm, Dave Restivo, and Rose Colella. He has been a featured composer in Fingerstyle Guitar Magazine, and remains a regular contributor. Daniel released A Single Thread, his first album as a leader, in 2008 on NohJoh records. His second release is due out in the summer of 2017.

Bruce's groups have been featured in The Chi-Town Jazz Festival, The Chicago Composers Collective series, The Chicago Cultural Center Chamber Music Series, The Jazz Institute of Chicago NextGen Jazz Series, South by Southwest, the Toledo Jazz Festival, and a special live radio broadcast on WDCB FM Chicago.

He was awarded a Teaching Fellowship upon entrance to The University of North Texas where he taught applied jazz guitar lessons, directed two guitar ensembles and a student big band while pursuing his own studies at the University. Daniel has held faculty positions at Muskingum College, Cuyahoga Community College, Harold Washington College, St. Xavier University, Interlochen Center for the Arts, and The Chicago Academy for the Arts where he served as Music Department Chair for eight years.

---
Ashley Summers
Bassist, composer and educator Ashley Summers is a Canadian-born, Chicago-based artist whose talents have brought her to stages all over the world. Known for a lyrical style that is punctuated by a sinewy impetuousness, Summers's artistic perspective has a striking sincerity that is both invigorating and nostalgic.

Summers has brought her "glorious tone that pours forth passion and groove" (Jazzreview.com, 2010) to the North Sea Jazz Festival, the Umbria Jazz Festival, and Jazz a Vienne. She has also toured venues throughout the US, from concert halls like the Kennedy Center for the Arts to Shapeshifter Lab in Brooklyn and the Lilypad in Boston. Recent performances have included special guests Aaron Goldberg, Corey Christiansen, Leo Blanco, Seamus Blake and Kenny Werner.

For more than a decade, Summers has been leading her own large and small ensembles in an effort to showcase her original music and the extraordinary talent of her peers in Canada, the US and Europe. Her compositional style emphasizes effusive melodies and dynamic harmonies derived from a vast range of musical influences. The result is a compelling narrative that chronicles stories of courage, despair, resilience, mysticism and more. Recently, the title track on Summers's upcoming ears&eyes Records release, 'True North', was recognized by the International Society for Jazz Arrangers and Composers as the 2017 "Outstanding New Music Composition" in the small ensemble category. The piece will be performed by members of the Chuck Owen Big Band at ISJCA's annual symposium in Tampa, FL, in May 2017.

In addition to her busy performance schedule, Summers is an in-demand educator. For several years she served as director of IAJE Canada's "Jazzmobile" project, which placed professional jazz musicians in Canadian schools to motivate, educate and inspire young musicians. She also frequently serves as an adjudicator, guest artist and clinician at festivals and universities throughout Canada and the US, including the annual Lionel Hampton Jazz Festival in Moscow. She spends considerable time in Summer months as a faculty member for jazz intensives throughout North America and frequently works with the Archipelago Project, a non-profit music education ensemble based in Traverse City, MI. She has also held interim faculty appointments at the Cleveland Institute of Music, Ashland University and Kent State University and recently completed a full-time visiting Jazz Studies faculty position at Morehead State University in Kentucky.

Although she is a proud Canadian citizen, Summers is thrilled to be in Chicago, IL, where she is perpetually developing her own projects and supporting a variety of exciting local and international artists in jazz and other genres, both live and in the studio. She recently debuted a new quintet, 'Ashley Summers's Raîson d'Être', at The Whistler in Chicago, which features longtime collaborators Daniel Bruce, Daniel Murphy and Chris Baker as well as the outstanding young tenor saxophonist Dustin Laurenzi. Her long-awaited debut album as a leader, featuring saxophonist Seamus Blake, is scheduled to be released on March 24th, 2017, on the ears&eyes Records label.

---
Chris Baker
Percussionist and educator Chris Baker started studying music at an early age, beginning with piano and eventually falling in love with percussion. He started out in the percussion section of his middle school band program and later began playing in rock bands and jazz bands. Chris continued his education at The University of Illinois at Urbana-Champaign, where he completed a degree in Percussion Performance and continued to further diversify his musical portfolio.

As an educator, Chris has more than fifteen years of experience teaching private lessons, coaching ensembles, and giving masterclasses. One highlight of his teaching career has been learning and implementing the principles of Venezuela's El Sistema music education model. This pursuit has taken him to Acariqua, Venezuela as well as Innsbruck and Salzburg, Austria. Chris has also completed teaching residencies with similar programs in the US, including The Baltimore Symphony's Orchkids Program and the Peabody Conservatory's Tuned-In program.

As a performer, Chris enjoys playing in as many diverse situations and styles as possible, including classical, jazz, rock, salsa, and chamber music. His rock band Dave Hammer's Power Supply toured the country and released four albums. As a jazz drummer, Chris was recently featured on Bobby Selvaggio's album, Short Stories, released on Origin records. He was also thrilled to be included on Ashley Summers's upcoming release, True North, which features world-renowned saxophonist Seamus Blake.

8:00 pm
$15
Buy Tickets