Marcus Anderson's Valentine's Day Celebration
Following sold-out appearances at BLU in 2016 & 2017, sensational pop/R&B/jazz saxophonist & member of New Power Generation (the backing band of music icon, Prince) returns to the Rubber City with his high-energy band for a 2nd annual Valentine's Day party not to be missed!
Wednesday, February 14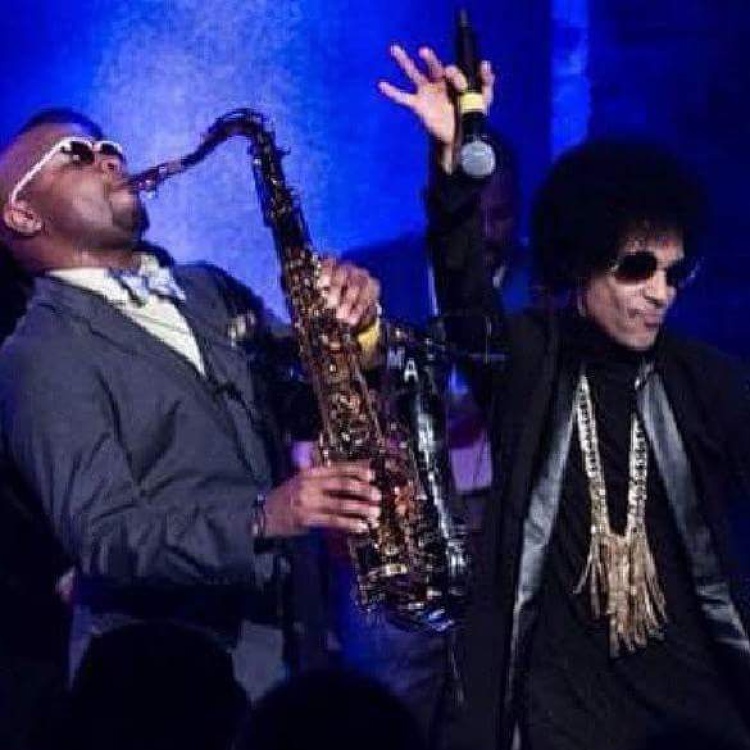 Pop/R&B and jazz sensation, Marcus Anderson, is fast becoming one to watch. Hailing from South Carolina, Marcus Anderson has performed for audiences all over the world as one of Prince's saxophonists in New Power Generation. As part of New Power Generation, Anderson has played and been showcased in such iconic festivals such as the Essence Music Festival, Montreux Jazz Festival and the Curacao North Sea Jazz Festival.



Watching Marcus Anderson perform is akin to no other live experience. The tremendous musicianship Anderson displays in-person is matched only by his energetic, charismatic and passionate showmanship. Heavily influenced by artists such as Michael Jackson, James Brown and Prince, Anderson's magnetic stage persona and tremendous enjoyment of performing is undeniable. Anderson makes the stage his musical playground and the stage becomes the setting for where "style meets substance."

"Touring with Prince has been rewarding in so many different ways; I feel as if I'm in grad school, business classes, and etiquette school all wrapped into one. Thank you Paisley University!"
- Marcus Anderson

Join us at BLU for one of the winter's biggest concerts featuring this world-renowned artist – get your tickets today!

---
About Marcus Anderson
A son of South Carolina, Anderson was introduced to jazz by his father at a young age, and was always a passionate student of music and the arts. The youngest of seven, Anderson grew up performing and singing in church with his older brothers. Anderson's family recognized his talent as a musical prodigy when he was introduced to the saxophone at age twelve. He later became a member of the All-State High School Jazz Ensemble for South Carolina. After graduation, Anderson studied jazz at North Carolina Central University. There he was a member of the program's world renowned Jazz Ensemble directed by Dr. Ira Wiggins. He studied with Branford Marsalis and Gospel saxophonist Donald Hayes for several years, achieving many accolades along the way. He received the Chancellor's Award three years running, and performed for Hilary Clinton and Jesse Jackson. Anderson was a member of the HBCU All-Star Jazz Ensemble as 1st Tenor Sax for three successive years. Marcus Anderson is a proud member of Phi Mu Alpha Sinfonia Fraternity of America and a proud member of Kappa Alpha Psi Fraternity Inc.

In 2005, Anderson released his debut album My Turn, a stellar contemporary jazz record the young musician put his heart and soul into. Filled with romantic ballads and jazz grooves, My Turn was a sophisticated introduction to what was to come from the up and coming star.

Anderson's breakthrough into contemporary jazz circles came in 2009 as the winner of the Capital Jazz Fest Challenge. Since then, Anderson has had a meteoric rise to success, touring with PRINCE, Sheila E. and Anthony Hamilton. Anderson has been honored to open for and join on stage artists such as Ledisi, Lalah Hathaway, Peter White, Boney James, Kirk Whalum, Gerald Albright, George Duke, Wynton Marsalis, Alex Bugnon, Nnenna Freelon, Jeff Lorber, Bob Baldwin and Jennifer Holiday.

At the age of only 24, Anderson saw the release of his sophomore album From the Heart, the offering that put Anderson firmly on the contemporary jazz map. The critically acclaimed record earned strong airplay for both "Karsen's Song" and "Sparkle City", written about his hometown of Spartanburg, South Carolina. The track "Everything's Clearer" was played regularly on the Cable TV network; Music Choice. In 2011, Anderson won the North Carolina Gospel Announcers Prestige Award for Gospel Jazz Artist of the Year.

In 2011, Anderson released his third record, NOW, which launched him into the jazz stratosphere. The multi-instrumentalist's intent was to challenge his smooth jazz roots, producing a diverse record that reached across R&B, pop and jazz boundaries, showcasing his exceptional growth as producer, arranger and artist. Following the success of NOW, PRINCE called for Anderson to join him. Anderson is currently recording and performing as a featured saxophonist and personality for PRINCE's New Power Generation.

2014 is shaping up to be a remarkable time for Marcus Anderson. The accomplished musician will be spending the year on the road performing to loyal fans at numerous performances both as a solo artist and with The Purple One. With the release of Style Meets Substance, Anderson is eager for what is to come as he continues to challenge the status quo of smooth jazz with his smoldering horn, further establishing himself as a successful solo artist. With his enthralling star quality and command of a stage, Anderson is guaranteed to continue to entertain, inspire his fans and create passionate music.

8:00 pm
$25 (advance), $30 (door)
Buy Tickets