Eric Seddon's Hot Club
Native New Yorker & clarinetist magnifique returns to BLU with an all-new historical series, "Jazz Clarinetists/Jazz Composers: A Survey of Originals from Bechet to Today," an exploration of over 100 years of traditional jazz repertoire featuring the tunes & contributions by Sidney Bechet, Benny Goodman, Artie Shaw, Mezz Mezzrow & more!
Saturday, March 3
In this series, Eric Seddon's Hot Club will explore original tunes written by Sidney Bechet, Leon Roppolo, Sidney Arodin, Mezz Mezzrow, George Lewis, Benny Goodman, Artie Shaw, Pee Wee Russell, Acker Bilk, Eric Seddon and others, covering 100 years of Trad Jazz repertoire and outlining the important and continuous contributions of clarinetists to the repertoire of jazz!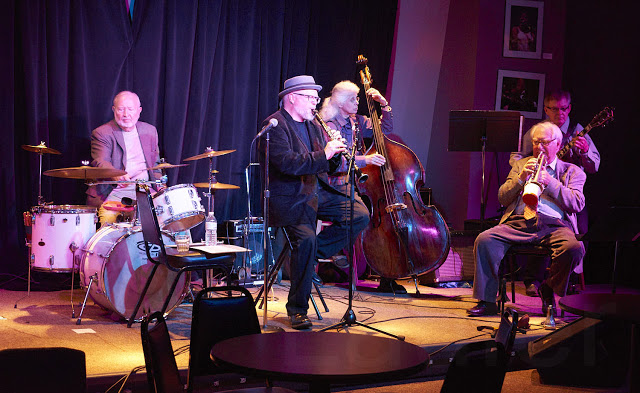 Eric Seddon's Hot Club is a band in the New Orleans jazz tradition, emphasizing soul, blues, and tuneful melodic invention. Focusing on trad jazz style, they perform numbers from over a century of jazz history, from the earliest spirituals to present day originals. The band debuted in March of 2015 at The Wine Spot in Cleveland Heights, as part of ChamberFest Cleveland's "Uncorked" Concert series and has gone on to play such venues as BLU Jazz +, Tri-C Jazz Fest, the Music Box Supper Club (where they served as the opening act for the Preservation Hall Jazz Band), The Bop Stop (where they recently completed a concert series dedicated to the history of jazz clarinet), the Cleveland Museum of Art, and many others.

The Hot Club is based in Cleveland and lead by Eric Seddon on clarinet. A Native of New York, Eric has performed in the French Quarter of New Orleans, and with Grammy winning artists such as Doc Severinsen, Steve Allen, The Moody Blues, Mark O'Connor, and the Emerson String Quartet. An advocate of the sound and history of jazz clarinet, he performs on refurbished, vintage clarinets with mouthpieces from the golden era of jazz and is committed to performing originals audiences don't often get to hear otherwise "From Bechet to Today!" Joining him in the band are veteran All Stars of the Trad Jazz Scene in Northeast Ohio, including George Foley (piano), Kevin Richards (guitar), Jim Davis (cornet), Gene Epstein (upright bass), and Bill Fuller (drums).

Join us as we continue this exciting new series right here in the Rubber City – get your tickets now!

8:00 pm
$15 ($10 student w/ ID at door)
Buy Tickets